Marina del Rey Toyota Upgrade Program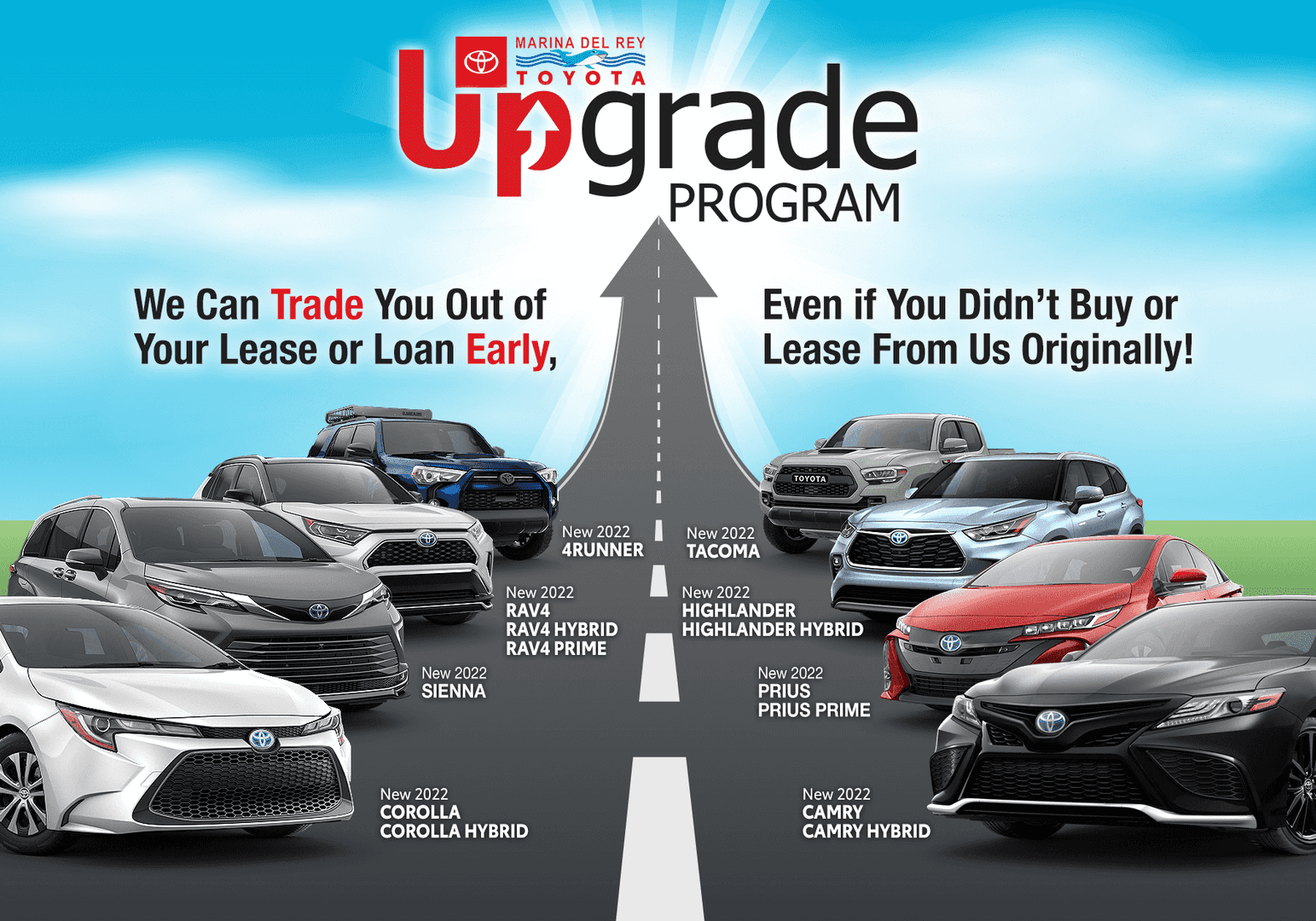 ---
No obligation 15 – 20 minutes
---
How the Program Works:
Preview new vehicle
Presented with offer to buy your vehicle
Presented with Upgrade Offer
Offer to pay today's service bill if you Upgrade
Just like a cell phone
Upgrade Program Team
Upgrade Team
(888) 478-2097
7:00 AM- 9:00 PM
Email Me
---
Toyota vehicles are known for their quality and outstanding reliability, which is why there are so many of them on the road today. If you are a current Toyota owner, you know this to be true. You may love your current vehicle, but you may also be interested in the latest features offered by a brand new model. That's where the Marina del Rey Toyota Upgrade Program comes in. In under 20 minutes, you could be presented with an offer for us to buy your vehicle, as well as an upgrade offer for the new Toyota you've had your eye on. Interested in learning more about this quick and easy program? Read on to find out!
Why We Need Your Vehicle
Due to the current automotive market, there is a high demand for quality used cars. Because Toyota vehicles have a reputation for longevity, they are highly desirable. You may be eligible to upgrade your current Toyota to a brand new Toyota, allowing you to receive the ultimate in performance, safety, and technology.
How Does the Program Work?
If you are interested in the benefits of the Marina del Rey Toyota Upgrade Program, visit us today to get started. You could have your offer in as little as 15-20 minutes! There is no obligation to give it a try. If you've ever upgraded your cell phone, the Marina del Rey Toyota Upgrade Program is very similar. Here is how the process works:
Visit our service department for your automotive maintenance.
Here, we can appraise your vehicle and provide you with a competitive offer to take your current Toyota off your hands.
You can then preview any new Toyota model of your choice to find one that meets your needs and budget.
Once you find something that you like, we will present you with an offer to upgrade.
If you choose to upgrade, we will pay for your day's service bill!
Contact Us for More Information
If you still have any questions about the Marina del Rey Toyota Upgrade Program, we would be glad to answer them for you! Stop by Marina del Rey Toyota in person at 4636 Lincoln Blvd in Marina del Rey, or you can contact us online or over the phone at (310) 439-9894. Our friendly staff would be glad to assist you. We look forward to adding your pre-owned Toyota to our inventory and helping you drive away in the brand new Toyota you've been wishing for.